Big Innovation Centre is excited to host fringe events at political party conferences. This year, in 2017, our events are at the two major political parties: The Conservative Political party which is in Government and the opposition, the Labour Party.
Our event at the Labour conference was joint with New Statesman Magazine, and our event at Conservatives conference was with ResPublica.
Our events titles are
Labour conference: "A New Future! How Artificial Intelligence and the Fourth Industrial Revolution can Transform Britain's Regions"
Conservative conference: "The fourth industrial revolution is at speed! But where is Britain's strategic ambition?"
Download our Provocation Paper from the event – LINK to download and read more about the event provocation and discussion points below.
NOTE: Award nominated by the
Labour Party Conference 2017 fringe event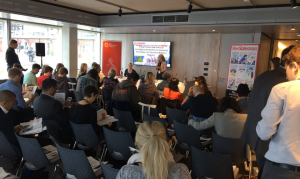 Fringe event title: "A New Future! How Artificial Intelligence and the Fourth Industrial Revolution can Transform Britain's Regions"
Monday 25th September 2017, 14:15-15:15
Birch Room, i360, Lower King's Road, Brighton, BN1 2LN
Our event provocation to be considered by the panel:
The event will examine the future prospects and growth potential of high-tech industries at the centre of contemporary innovation in advanced manufacturing, machine learning and the Fourth Industrial Revolution, transforming our patterns of consumption and production through automation and Artificial Intelligence.
As our economy becomes less dependent on the trade of physical goods, and as businesses and consumers embrace emerging technologies, creating new supply chains and new modes of ownership, Britain's future depends on whether it can seize the initiative and focus on how disruptive innovations can deliver a positive future. Commerce and the world of work are changing, but in order for the UK to prosper it must aspire to transforming regions and supply chains to become innovation hubs like Silicon Valley, Shenzen or Bangalore. This approach has the capacity to breathe life into the Northern Powerhouse and Midlands Engine, boosting regional and economic development by building a sound innovation ecosystem and deliver world-class infrastructure in key areas.
How can government, academia and the private sector work in partnership to facilitate a new era of technological and industrial innovation that promotes growth where it is most needed? How will Artificial Intelligence and emerging technologies impact businesses' products and services? What strategies can companies use to adapt to the challenges of advanced technologies? What business models does it take to succeed in this new, high-tech, knowledge-based environment? And will Britain be part of shaping Artificial Intelligence, robotics and advanced technological disruption or will it be outpaced and left behind in the wake of the Fourth Industrial Revolution?
Discussion points
What new technologies/innovations are changing the way a) the economy, b) the world of work, and c) internal and international trade, functions? What new patterns of production and consumption are emerging from the onset of the 4IR?
Do these new technologies threaten jobs? What kind of jobs are under threat? Could the negative impact of automation – in terms of making swathes of the workforce redundant – outweigh the gains in productivity/profitability? How does a) local government b) national government, and c) the private sector ensure that the 4IR creates more jobs than it replaces.
Does the workforce need to be re-trained, up-skilled, in order to facilitate the kind of high-skilled, high-waged and highly productive specialised labour demanded by the 4IR? Will Brexit have a positive or negative impact on the supply of an appropriately trained workforce?
How can the 4IR reinvigorate regions that are economically disadvantaged? Which regions, specifically, can benefit in this new revolution?
What measures are needed to transform deprived areas into 'innovation hubs' that become globally competitive and become world leaders in the adoption of advanced emerging technology?
How can government ensure the benefits of the AI, machine learning, Big Data, Augmented Reality, Virtual Reality, Internet of Things, Fin Tech, Connected and Autonomous Vehicles, Intelligent Vehicles, Automation, Advanced Materials and Advanced Manufacturing are shared evenly across the UK, rather than concentrated in the South East, just as financial services are?
What opportunities are there for partnership between national government, local government, business and academia to facilitate the onset of the 4IR, and embrace the technologies of the future, rather than see Britain lag behind in the advance towards the adoption of emerging tech?
Panel
Panel Chair: Will Dunn, Special Projects Editor, New Statesman
Professor Birgitte Andersen, CEO and Co-creator, Big Innovation Centre
Will Hutton Chair of Steering Group, Big Innovation Centre
Andy Burnham Mayor of Greater Manchester
Angela Eagle MP Former Shadow Secretary of State for Business, Innovation and
Skills
Dr Jo Twist CEO, Ukie (The Association for UK Interactive Entertainment)
Conservative Party Conference 2017 fringe event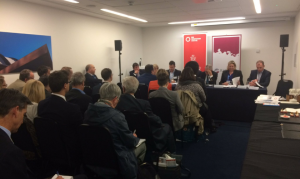 Event title: "The fourth industrial revolution is at speed! But where is Britain's strategic ambition?"
Monday 2nd October 2017 from 17.45pm to 19.00pm.
Cobden Room 2, Manchester Central, Manchester M2 3GX
Our event provocation to be considered by the panel and discussion points:
How well can the Industrial Strategy deliver regional economic growth through innovation and embracement of disruptive technologies as automation and artificial intelligence?
Transforming UK regions and cities to high tech service and manufacturing clusters and a better place to live with meaningful jobs, culture, schools, and housing means we must address our Industrial Strategy holistically:
Is our industrial system modern enough?
How innovative is our local Entrepreneurship start up system?
Is our university talent system pervasive and impactful?
Do we have a capable global trading system in all UK regions?
Is our urban and regional system fit for 21st century high speed low cost transport and sustainable housing?
What does our people's livelihood system look like in our cities?
What do our regions proto-type and do they have demonstration system fit to attract foreign direct investment?
Do our existing management systems get it?
Robust economic recovery following the 2008 financial crisis has masked widening UK growth and wealth inequality, which manifests sharply between the North and the South and between cities and non-metropolitan areas. Geographically distorted growth is consequential for the scale and pace of Industry 4.0 in the UK. This is because sectors, regions and companies spatially bound to relatively poor productivity rates, low skill levels or underperforming infrastructure are prevented from playing to their competitive advantages and in turn, from properly contributing to Britain's macro-economic and sectoral strengths.
With few natural resources to offer and relatively high wages, solving the UK's 'productivity puzzle' and fully harnessing industry 4.0, rests almost exclusively on our capacity to innovate; attract and retain world class talent and adequately invest in knowledge/science-intensive economic activity. The global race in innovation and scientific progress however is dynamic and fast-paced. To compete, the Government must move to unlock the potential of our regions, cities and non-metropolitan areas and enable them to find the productivity gains likely to be transformative for the local and national economy.
Transforming our regions and our supply chains to become innovation hubs like Silicon Valley, Boston or Bangalore is a major aspiration for the United Kingdom. There are global examplars of what works. Whereas Silicon Valley and Boston developed with close links around world class Universities, Bangalore developed with close global supplier links to Silicon Valley until it became a thriving hub in its own right.  Einthoven, located in a much smaller provincial part of Europe, took a different route with Philips Electronics (a big corporate) as the hub – but with a good-enough local university and looking to outsource IP and technology to an innovative supplier network. Philips Electronics crowded in expertise from world class academics – often created a link to the local university – and opened space for entrepreneurs to co-create with them locally. They invested in new buildings and converted outdated factory space 'not fit for purpose'. All the approaches created opportunities for the local regions to upgrade. However British regions have few comparable assets, nor have our own efforts so far have shown much success.
China has taken a different, more systemic approach – what it characterises as an 'Opening up of the system' approach for regional and economic development, transforming regions and cities with high tech clusters, industrial parks, and taken millions of people out of poverty.
Panel
Panel Chair: Will Hutton – Chair of the Innovators Board, Big Innovation Centre
Professor Birgitte Andersen – CEO and CoCreator, Big Innovation Centre
James Palmer – Metro Mayor, Cambridgeshire and Peterborough
Stephen Metcalfe MP – Chair, All-Party Parliamentary Group on Artificial Intelligence (APPG AI), Member of the Science and Technology Select Committee
Antoinette Sandbach MP  – Member of the Business, Energy and IndustrialStrategy Committee
Matt Warman MP – Member of the Science and Technology Select Committee
Juergen Mair – Chief Executive, Siemens
Francis Martin – President, British Chamber of Commerce ?
Dr Niel Bowerman – Assistant Director, Future of Humanity Institute, University of Oxford