Our CEO Professor Birgitte Andersen is interviewed by BBC World and Aaron Heslehurst for the lead story on Facebook Whistleblower Frances Haugen while she gives evidence in UK Parliament. It is ahead of major new laws to tackle online abuse.
Birgitte explains Frances Haugen's comment on "Profit over People" and how Facebook didn't do anything illegal. This is about integrity.
LIVE RECORDING: BBC World News 25 Oct 2021
Further details below:
BBC: Why does it matter if the UK hears evidence already presented in Congress? Are we expecting anything new?
BBC World News 25 Oct 2021: Birgitte Andersen is being interviewed regarding Facebook Whistleblower. – Recording is below
Watch the LIVE RECORDING of Birgitte's comment on "A social experiment for profit over people!" 
Professor Birgitte Andersen's insight:
Frances Haugen is possible saying everything we already know. No, we do not expect anything new – but we perhaps wish to hear it first-hand so our lawmakers and Parliament (House of Commons and House of Lords) can ask the questions they want answers to and react on it in using their own institutions of cyber security, data governance and competition councils.
Rules are often national even if the tech giants are global. For example, China, Russia, the Middle East, the USA and Europe with the UK govern the internet nationally using local institutions
It is a conversation that needs to be local because it affects the wellbeing of citizens.  
Continues below…
BBC: Does Facebook really put profit over people as Frances Haugen states – is it the same with other platforms?
Professor Birgitte Andersen's insight:
How bad it goes is down to the business ethics of the organisations.
Facebook is possibly the most powerful company on the planet at the moment.
The reason big firms such as Facebook and YouTube had 'wellbeing consequences' they had, is because they were using a very powerful amplification technology (big data and AI) to do (what I call) psychology experiments on the population, on a scale that had never been done before.
Their objective is to
optimise engagement;

optimise, how much time people spend on their site, and

optimise how effectively they invite people onto the site.
These objectives are not human values, they're only monetisation values and this is the way those platform companies are run.
This is how we got Frances Haugen statement of Profit over People.
In order to secure these objectives and monetarisation values, their algorithms need to draw people to some sensational information. Their business model is linked with advertisements and campaigns.
Their business model was not vicious but decreasing wellbeing and online abuse were the consequences.
Continues below…
BBC: But Facebook did not break the law – so why an issue?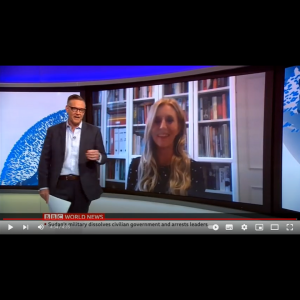 Professor Birgitte Andersen's insight:
Corporate behaviour is not just about following rules of law – also about corporate social responsibility.
Banks are here to make us manage our finances – not to trick us into major loans and fall into houseful debt. Supermarkets should be here to provide a good shopping experience and make us eat good food. Energy companies need to help us become sustainable.
Companies need to have Integrity, not just being "legal" –  they need to create a safe environment around us.
I think that Facebook has run out of coolness:
the scandal over Cambridge Analytica

attitude towards tax

and they did not first hit down hard enough to terror, abuse and hate crime
End.