Related report links:
Related media:
Big Innovation Centre's Entrepreneurial Finance Hub revealed the sources of the finance gap between innovation and investment in the UK, and the issues are similar in most European countries.

IT IS A FACT.
Innovation is vital for growth. Innovative firms are 22% more likely to be high-growth than non-innovative firms.
High growth firms have 74% more intangible assets on their balance sheet than non-high growth firms.

IT IS A FACT.
Between 2001 and 2007, total capital raised in the UK financial system increased by £1,340bn but investment in innovation over the same period increased by just 26bn.
Innovative firms are finding it harder to get funding – 57% of innovators had trouble obtaining finance in 2012, up 38% since 2007.

IT IS A FACT.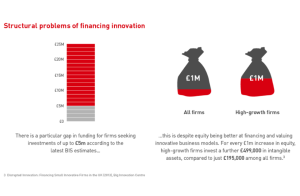 There is a particular gap in funding for firms seeking investments up to £5mill according to the latest bis (Department for Business, Innovation and Skills) indicators.
… this is despite equity being better at financing and valuing innovative business models. For even £1mll increase in equity, high-growth firms invest a further £499,000 in intangible assets, compared to just £195,000 among all firms.

IT IS A FACT.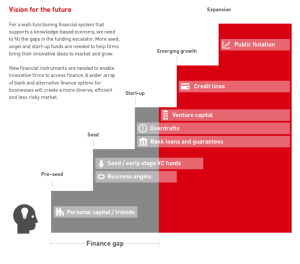 For a well-functioning financial system that supports a knowledge-based economy, we need to fill the gaps in the funding escalator. More seed, angel and start-up funds are needed to help firms bring their innovative ideas to market and grow.
New financial instruments are needed to enable innovative firms to access finance. A wider array of banks and alternative finance options for businesses will create a more diverse, efficient and less risky market.

IT IS A FACT.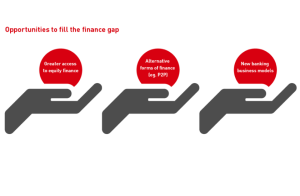 Greater access to equity finance, alternative forms to finance (E.g. P2P (peer to peer) lending) and new banking business models can provide new opportunities to fill the finance gap.

Comment by Hiba Sameen and Gareth Quested
Hiba Sameen – 'Researcher, Entrepreneurial Finance Hub', at Big Innovation Centre
Gareth Quested – 'Economic Researcher' at Big Innovation Centre.
What would our economy look like if every knowledge-intensive, high-growth firm had access to the finance they need from a constructive, not obstructive, financial system? In our previous blog, we laid out why innovative, high-growth firms often struggle with access to finance – now we explore what things would be like if that trend could be reversed.
Over the last few years, the financial sector has attracted, mostly justified criticism for creating instability in the wider economy with a number of poorly utilised financial innovations, such as securitisation. However, it goes without saying that an effective financial system is vital for the long-term growth of our economy. With that in mind, we have been thinking of good innovations that would allow our financial sector to take the economy forwards.