There are some technologies for which there is an obvious application staring you in the face. There are others which have so many potential applications, that it is hard to know where to start. Such was the predicament that Matthew Mayes and his business partner Claudio Piovesana, an Italian based in Paris, found themselves in. They had come across a uniquely effective algorithm, created by celebrated Italian software engineer Stefano Bargagni that was able to read people's moods attention, positivity and facial expressions, whilst protecting the viewer's personal data and privacy.
LINK REF: It can be tried here on our new live AI Demo: https://a-dapttraining.com/ai-demo-stage
No stranger to innovation, Mayes, is an advertising industry creative veteran with spells at leading global firms like McCanns and Omnicom to his name. He had already demonstrated a keen interest in the way emerging digital formats were revolutionising engagement with consumers. Piovesana, was a former CEO and International Management Executive, who had managed media sales and marketing teams worldwide for leading publications such as The Wall Street Journal and ELLE International.  He immediately saw great potential to be sell the format globally.
They both enjoyed collaborating together, had great synergy and wanted to build a company, so they founded A-dapt – a shortened form of adaptive media. With Mayes responsible for the strategic and product side and Piovesana for the business and legal sides. 
Their initial thinking was to take their format to the creative marketing industry's annual get-together, at the Cannes Lions Festival, where they launched A-dapt on the Innovation Stage in 2019. What they found there were plenty of people who were interested, but not 100% convinced they could sell the idea to clients, at least not yet. Disappointed, but not disheartened, they thought they could do better. 
Mayes and Piovesana went on to the Bett EdTech show in 2020, where they met Jeff Howson, an EdTech expert who had worked with Britain's Open University and Department of Education and knew a thing or two about applying technology to remote learning and training situations. Says Howson: "I saw this format and I said, 'Wow, this is so great'.  Many things can be done with this in education and training and that was how we started to work together." 
Then came the COVID pandemic, when even the most technologically averse educational institutions were forced to embrace the online world.  In April 2020, Innovate UK set up a £20m fund to support business-led innovation in response to the global disruption caused by COVID. 
A-dapt applied and won a £50,000 grant. 
The money helped A-dapt launch their first prototype – Focus Pocus: a digital owl which helps children who would otherwise struggle, to maintain their attention during screen-based learning. As parents of young children themselves, they immediately saw the value of such a digital tool, to help children learning from home and there were plenty of opportunities to road test the application on their own families while they were all cooped up at home. 
LINK REF:  https://focuspocus.ai         
IMAGE REF: Focus Pocus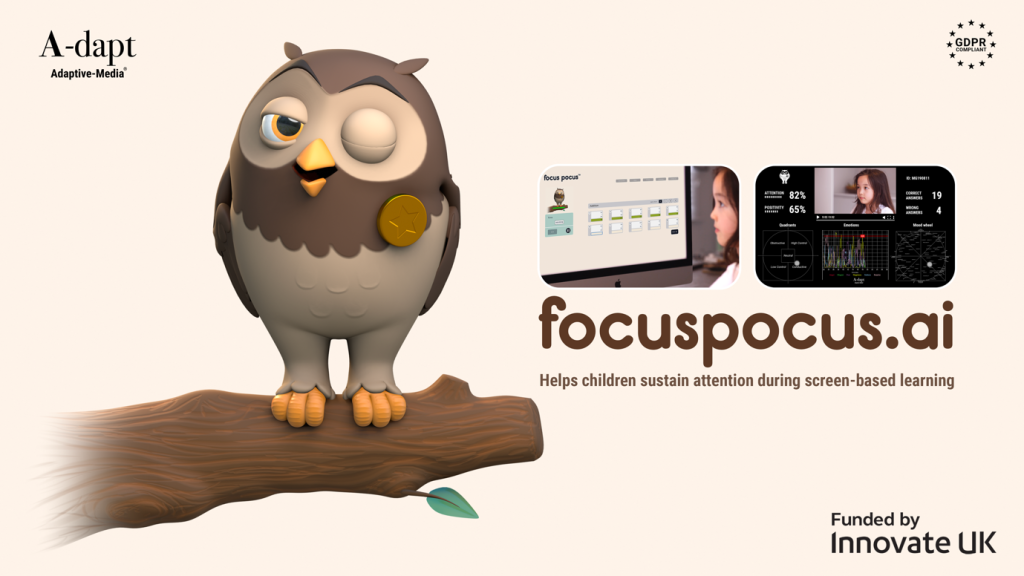 Encouraged by that success, A-dapt has since developed an adaptive video maths tutorial for Year 5 pupils to analyse progress and adapt the learning pathway accordingly. It is the first video where answers can be inputted directly into the video tutorial and assessed in real time alongside human factors such as attention and maths anxiety. It has been successfully tested in schools and A-dapt is currently seeking commercial partners to develop education product innovations with.
IMAGE REF:  Adaptive-Media® Maths Tutor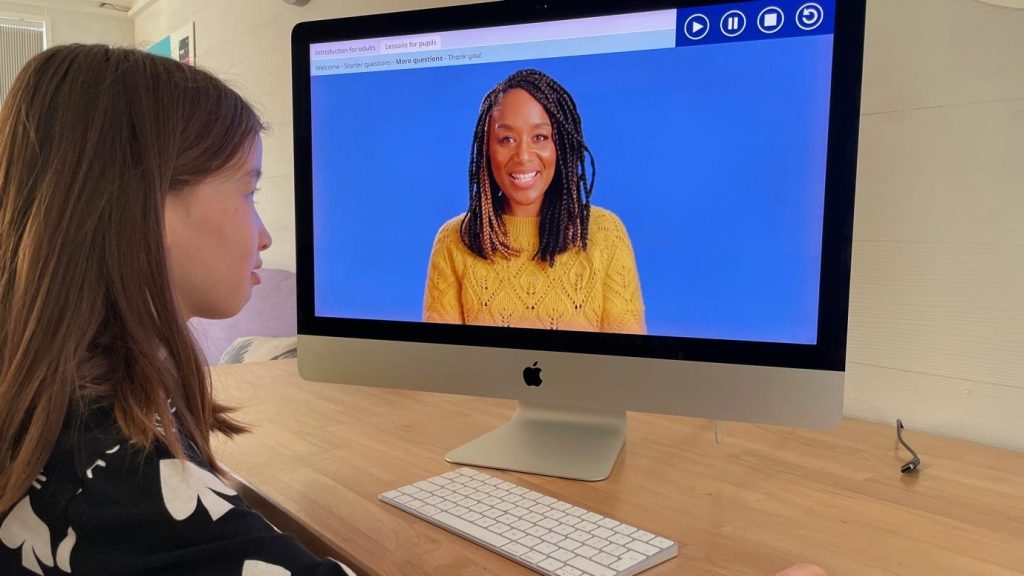 For the UK, which has a real problem in recruiting skilled teachers for disciplines such as maths and physics, anything which can help fill the gap is welcome. So, the potential is huge for a sophisticated and highly adaptive tool which allows children to work independently at their own speed, but can also "read" them well enough to know to adjust the pace or level of material to suit their needs.
This ability to read emotions and adapt accordingly has enormous potential, and A-dapt, by its own admission, has only been scratching the surface. A second Innovate UK grant helped fund a new format for soft skills training. This AI-based interview coach is successfully helping young people who lack the confidence or the ability to project themselves in interview situations. For many, this is a major handicap and the main reason why these youngsters struggle to find employment or training places that would get them into the jobs market. 
Working with partners Nacro Education, a national charity that offers young people who don't fit into mainstream education and training, an opportunity to develop skills they need and the Institute for Employment Studies, a research centre in public employment policy, with a strong track record of research on youth transitions, employability and soft skills. They proposed a project to help Nacro students develop the soft skills needed to do well in interview situations.  The innovation would be used to help young adults, know when to smile, maintain eye contact and so on, which they often struggle with, but which can be make-or-break in an interview or workplace situation.
To develop this further, they were able to go back to Innovate UK for a Smart grant, which gave them access to a bigger pot, but with the proviso that A-dapt had to find a further 30% of their own funding to unlock the 70% that Innovate UK put up. For the founders, it was worth it: "that one enabled us to deliver this what we think is quite a breakthrough project." Mayes particularly appreciated the feedback from the assessor who reviewed their application during the Innovate UK grant application process. "What I found quite inspiring was that he said he thought it was very brave, what we were trying to do, doing something many people would have thought impossible: helping kids with severe issues such as no confidence, no self-esteem, suddenly get really good at job interviews. It has also really enabled us to think about how that technology's got a role beyond just interviews, but also in building confidence and resilience."  
---
 1RESEARCH REFs from IES:
Since 2005, a key priority of UK labor market policy has been reducing the proportion of young adult 'NEETs' (Not in Education, Employment, or Training)
Being NEET is worryingly persistent: almost half of the young people NEET at 16-17 remain NEET (Crawford-et-al 2011)
As the UK was nearing full employment, the nature of young people's employment was becoming more precarious (Newton-et-al, 2020; Buzzeo-et-al, 2019)
The Youth Contract for 16-17s demonstrated that NEETs struggled throughout education (Newton-et-al, 2014)
NEETs become entrenched in their own views about their inability to achieve

Increased likelihood of neuro-diversity/LDDs e.g. Dyslexia
Disadvantage in terms of the living context
Opportunities to acquire soft skills are severely restricted
The beauty of the interview coaching tool is not just that it provides feedback in real time, but students can see the real progress they are making, creating positive reinforcement and a feedback loop which further builds their confidence. It also a service which many of these training bodies and agencies would simply not have the resources to offer otherwise.
IMAGE REF: Adaptive-Media® Interview Coach
This Innovate UK project has been widely recognised. It won the Global Webby Award for Science & Education Virtual & Remote and has been twice nominated in the prestigious Learning Technologies Awards for Best Learning Technology (UK) and Best Project Public & Non-profit.
Although their activity to date has been primarily focused on the UK, Piovesana saw a great opportunity for the coaching tool in France where youth unemployment is an issue and the demand for coaching and re-skilling is high. As a consequence, A-dapt won a breakthrough contract with the French state employment agency, Pole Emploi PACA, which operates in the Provence-Alpes-Cote d'Azur region in the South of France. The project involves A-dapt working with a dozen local authorities and partners in the region. According to Piovesana "The intention was to expand internationally, so we set up Adaptive Media France and a production team to enable us to develop our format and scale it".
The challenge is as it has always been, to work out what to focus on first. Says Mayes: "It's very easy to run off and keep trying to find new things to do with it, and you can't do that without a lot of capital and a much bigger team, so where we are in our development phase is we're productizing the interview skills platform."  Piovesana adds "And in terms of a business, we've closed a first round of seed with a very solid anchor investor in Switzerland and we're doing another round end of this year and beginning of 2023, in order to really springboard off these two products where we're aiming to prove, over time, the commercial traction". He adds that they will then need to raise a significant amount of money, to scale the operation. "We've got a big unique format with a lot of potential. A big risk for a small start-up is that we can end up putting time and energy into new business initiatives only to have our ideas and innovations copied. So, for now, we've got to get our foot on the gas quite quickly, and now we've proved these exciting use cases and I'm pretty confident."
A-dapt have also received valuable growth support from Innovate UK EDGE. Innovation & Growth Specialist Graham Howe at Newable says: "Innovate UK is in the business of providing support to SMEs with High Growth potential. A-dapt has built a product that is truly unique and game changing for education and commercial management and we are confident that the A-dapt team will be able to scale the business Internationally."
Innovate UK played a key role in A-dapt's growth at a crucial time, says Mayes: "None of this would have been possible without Innovate UK giving us the confidence to carry on when we might otherwise have given up." 
---
2REFs: Award list
WEBBY AWARDS Science & Education Virtual & Remote Virtual Science and Education
BETT Innovation of the Year Finalist
NATIONAL START-UPS, Innovative Start-Up Finalist
THE STATIONERS' AWARDS Innovation Excellence, Start-Ups
LEARNING TECHNOLOGIES AWARDS Learning Technology (UK) and Best Project Public & Non-Profit (UK)