UK scientific research is world class and arguably world-beating. If that could be matched by a similar excellence in the innovation infrastructure, our potential to translate into products of significant value to society could be unleashed. However, as of yet this has not been fully achieved, it appears just out of our grasp.
GlaxoSmithKline (GSK) has a keen interest in enhancing innovation with external partners  as well as within our company. Scientific knowledge in Life Sciences is expanding exponentially and in the pharmaceutical industry we are also working with an increasing array of new types of medicines, such as biological molecules, gene and stem cells therapies and in a world where detailed diagnostic tests often to a molecular or genetic level, such as to individualize drug regimes to a patient's specific disease, are becoming a reality.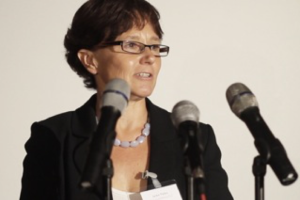 However, there is a problem. Although there has been a tidal wave of knowledge over the last few years its overall complexity means that single organizations cannot realize all of these opportunities. What is needed to solve this problem is collaborations; collaborations within and across public and private sectors, across different fields of science and technology, and beyond. By doing so we believe the creativity will materialize, creativity that is needed to most effectively apply the rapidly emerging knowledge. A vibrant entrepreneurial and innovative research environment is key to successful discovery of new therapies to improve health.GSK is therefore eager to take the opportunity to help UK break through innovation barriers as a part of the Big Innovation Centre's vibrant research and evidence-driven approach. The inclusion of business as integral collaborators is novel, the experience from industry of innovation has largely been missing in research to date and it brings an important additional perspective that we hope will contribute to innovative solutions.
Dr Jackie Parkin, VP Medicine Development Leader Type 1 Diabetes.
Jackie was also Visiting Research Fellow at Big Innovation Centre pre and post launch (May 2011 – Jun 2012), applying the centre's open innovation methodology to health.