BIG DATA WEEK is one of the most unique global festivals of interconnected community events focusing on the social, political, technological and commercial impacts of big data.
Below are two provocations were for the 2013 event in London hosted by Big Innovation Centre;
They are by
Prof Birgitte Andersen, CEO Big Innovation Centre: "Why all the fuss about Big Data? Well, it's a big deal!"
Roger Bickerstaff, Partner at Bird & Bird LLP, and chairs the Society for Computers & Law.: "Big Data and the law: what's the fuss?"
See also Link to Big Innovation Centre BIG DATA WEEK 2013

Provocation 1) "Why all the fuss about Big Data? Well, it's a big deal!"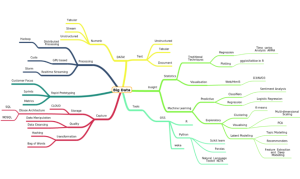 By Prof Birgitte Andersen, CEO Big Innovation Centre
25th April 2013
Big Data is turning into a technological revolution, changing everything from the way businesses work, the way our products and services are produced, delivered and received or consumed, or the way we live. It has the potential to be a new general purpose technology through open innovation and the creation of a fit-for-purpose Intellectual Property regime.
Big Data is turning into a technological revolution, changing everything from the way businesses work, the way our products and services are produced, delivered and received or consumed, or the way we live. It has the potential to be a new general purpose technology through open innovation and the creation of a fit-for-purpose Intellectual Property regime.
Big data: A new general purpose technology
In essence, big data is a new general purpose technology (GPT). It can change society in the same way as previous GPTs such as railways, synthetic materials, electrification, mass production and the Internet. Although intangible, these technologies are instrumental in every sector and function of the global economy today and are just like other essential factors of production such as labour, capital energy and raw materials.
In contemporary capitalism the information and knowledge embedded in big data is key to competitiveness. However, multiple datasets need to be combined to find interesting and unrecognized synergies and unleash their full potential. Big data is about increasing returns to scale. There is increasing returns to investment in combining datasets, and this will become the core of the information society, so 2 + 2 = 5 or more, and not 4 or less.
Companies, societies and nations that understand how to build and combine their data with other networks of both public and private data will hold the competitive edge.
When combined, data can change the way in which products and services are produced, stored, delivered and consumed. It can reorganize the entire economic system of production, the entire system of science, and create new business models and ways of living. There are already great examples of big data being able to contribute to the world economy and welfare, for example by increasing the quality of products and services in the health or financial sectors, or by reducing energy waste in households or street crime – all possible through the harnessing of big data.
At Big Data Week 2013, there was a lot of discussion around the issue of 'privacy' – especially with regard to releasing data and making it transparent. These are important issues, but what we should really be asking ourselves is what are the big challenges we want to solve with big data, and are we willing to share our data to co-create the solutions? To take an example of an ethical issue, could we imagine 'donating' data – and not just money – towards a cause such as curing cancer?
For the big data revolution to flourish, organisations must adopt complementary innovations in their management styles and allow for the creation of new, open production ecosystems. Open innovation is key to unlocking big data, starting with transparency in public and private information.
New business models and advanced analytic capabilities will have at least as much impact on productivity as the efficiency of machines and computers. They can enable risk sharing, or simply reduce economic risk. Companies that embrace information-driven business models will form part of an innovation ecosystem where they co-create value-chains. Big data allows organisations to incubate new ideas and test them rapidly before they are introduced to the market. It is about working together across supply chains and ecosystems.
Digital entrepreneurship and intellectual property for open innovation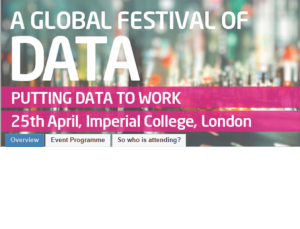 Contemporary entrepreneurs are creating entirely new categories of companies, such as those that aggregate and analyse industry data. They will combine information from public and private data.
We must allow companies to experiment with new platforms and business models in order to gather evidence of what works. This includes alternative designs of platforms and coordinating mechanisms to support open innovation with data. We must also overcome many of the technical challenges associated with discovering and making use of new data, supported by a stronger IT infrastructure.
The increasing importance of open innovation is placing new demands on our Intellectual Property (IP) system and the opportunities generated from open access business models need to be addressed. As the value of big data is in the combination of datasets, we need progressive law making in a range of areas.
We need 'challenge-led' law making, which means designing laws around solving real challenges from product innovations to solving the socio-economic problems around boost innovation and entrepreneurship and business models in our economic progress sectors as health and green growth. This is best done through evidence-based testbeds, and not in the courtroom.
Our courts must be more enlightened with regard to our new digital entrepreneurs who create coordinating mechanisms and infrastructure, as well as digital platforms and business models. If we behave in the same way as we did towards many digital entrepreneurs who created online registers and link pages, we could cause huge economic damage. Think of all the court cases against digital entrepreneurs whose business models challenge existing market structures. If we persist with our existing IP laws, we will not experience the opportunities and growth which could be generated.
The government's vision of exceptions and limitations to copyright in the areas of private copying, education, research, data analytics, copyright administration, orphan works and much more is progressive and a step change in the UK's capacity to innovate, generate wealth and secure growth through IP. But it does not include private and commercial data and for the big data revolution this is, of course, an important dimension.
To fully benefit from the enormous potential of big data, we need to revolutionise the way we legislate IP. I suggest the creation of an IP Manifesto proposing a new norm for regulating IP, as 'exceptions and limitations' do not create a truly free space for individuals to innovate in. Only then can we reap all the benefits for wealth creation, jobs and growth. We cannot afford anything less.
Provocation 2) Big Data and the law: what's the fuss?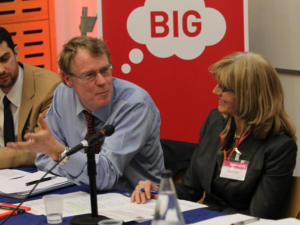 Roger Bickerstaff, Partner UK, Bird&Bird
14th May 2013
Big Data provides huge opportunities to create new industries and to increase the efficiency of existing industries.
Birgitte Andersen argues forcefully in her blogpost that the IP and privacy laws should not hold back Big Data developments in the ways that these laws have constrained previous generations of digital entrepreneurs.
In some ways, it was a disappointment that the workshop on regulatory constraints at 'Big Data Week 2013' focused so much on privacy concerns. Will Hutton, the Chair of the Panel, did his best to involve the audience. There was an encouraging debate around the more general regulatory concerns associated with Big Data. Privacy is an important aspect of the Big Data revolution but as Birgitte points out, it is not the only regulatory hurdle that needs to be overcome.
However, concerns about privacy seem to be right at the heart of suspicions about the impact of Big Data; even though there was a counter-argument raised in a question from the audience at the workshop that in a 'small data' environment, such as a village, everyone knew everything about everyone in any case. The questioner considered that a Big Data environment was akin to a large city where anonymity results from the scale of the city. I'm not sure that the analogy holds, due to the accessibility of digital information. When information was hidden away in dusty paper files, there was privacy through the inaccessibility of data, but with digital information data can be retrieved in a millisecond.
The audience at the workshop were divided on whether privacy is a social construct or a more fundamental right. My view is that privacy is a social construct but that important rights should be and are associated with that social construct, even if what we regard as being private may vary over time. It may well be that the view of privacy as an inalienable human right, as held by some privacy campaigners, may stifle the debate over the nature and scope of rights of privacy. If privacy is simply a 'given' right then it may be harder to question and debate, and hence to determine the appropriate scope and level of privacy that is appropriate in particular situations.
Irrespective of these quasi-philosophical questions, the Big Innovation Centre's question on the regulatory constraints on the development of Big Data is worthwhile developing. The Centre's forthcoming study on the practical constraints that are hindering Big Data developments is to be welcomed. This ought to be helpful to Big Data initiatives and should identify the real issues. From the perspective of IP rights, Tom Heath from the Open Data Institute commented at the workshop that the complexity and lack of clarity in this area of law is a particular difficulty in the data field. He mentioned the database right in particular as a particularly complex area of law. He is correct. This must be one of the more obscure pieces of law which could well do with reform (or possibly abolition).
However, the database right is also a good example of the problems that are created by overly-rash regulation in a new field. The Database Directive was implemented in in 1996 in response to a concern that existing copyright law, particularly in mainland Europe, was not an appropriate framework for the protection of databases. To a certain extent the Database Directive was rushed through (at least in legislative terms!) before the market had had a real opportunity to consider the issues. The courts have been struggling since 1996 to make sense of the database right and now seem to have attempted to minimise its impact and importance. It would be a shame to rush to implement new legislation for Big Data issues and to find that we then have a range of laws which are as unclear as the Database Directive.
That doesn't mean that we should not take stock on whether changes are needed to the legislative framework. It is probably inevitable that there will be casualties along the way. Someone has said that the existing laws constraining Big Data are akin to the man with a red flag who (apocryphally) walked in front of early internal combustion-engine vehicles (Did that really happen?). That may be so but it does not mean that we should simply remove all the speed limits on Big Data from Day 1. It's worth remembering that there were more fatalities on the roads in the early years of motoring than nowadays, even though there are now far more cars. If we had worked out much earlier that it makes sense to wear seat-belts in cars, many thousands of people would not have died. We need to find out and invent the Big Data equivalents of speed limits and seat belts.
For these reasons, I am very keen to encourage the analysis to be carried out by the Big Innovation Centre on the legal and regulatory constraints that are hindering Big Data developments.  Clearly – from the audience reaction at the recent workshop – one of the key concerns has to be the privacy issue. We are all concerned about the usage and abusage of information that we provide in our daily transactions. We have little choice but to sign up to terms of use which give the recipients of our data very broad rights to use and transfer that data. Usually, the explanations of what can be done with our data are hidden away on 'page 27' of the small print, which very few people will ever read and those that do will have to accept if they want to use the service.
Perhaps what we need are a small number of much more public statements of what can and what cannot be done with our data, along the lines of the Creative Commons license terms for copyright materials. These public statements could be developed into a 'Privacy Commons'. These Privacy Commons statements could then be used as part of the service offerings of data users, so that there would then be a public commitment by service providers to abide by the requirements of a particular Privacy Commons statement. As users of these services, we would then have a much better understanding of how our data could be used by a service provider and in time we would all perhaps start to understand that providing our data to service providers is part of the payment that we make for the provision of the service.
So, whilst I don't agree with Birgitte that Intellectual Property and privacy laws should be lifted in order to encourage the development of Big Data initiatives, I do agree that these laws need to be reviewed so that they can be applied more appropriately in the Big Data context. My hope is that this will not require too many changes in the law, as this would be a cumbersome, risky and time-consuming process but that we can develop new concepts, such as a Privacy Commons approach, utilising existing legal concepts to encourage the development of Big Data initiatives.