The UK's emerging blockchain industry was presenting real implementations of Blockchain technology to solve society and business problems. It happened on the 18th March at Portcullis in the UK Parliament.
All-Party Parliamentary Group on Blockchain brought Blockchain use-cases to an audience of Parliamentarians and industry, having a strong turnout of 150 people at the event.  Big Innovation Centre as the secretariat of the APPG on Blockchain was thrilled to have seen many policymakers experienced real-world blockchain implementations for the first time in Parliament. It was a significant milestone for the UK to become a global hub for blockchain technology
The event was Hosted by All-Party Parliamentary Group on Blockchain Chair, Damien Moore MP Inspiring opening remarks were provided by MP and Minister of Creative Industries Margot James as well as Emma McClarkin MEP Rapporteur of "Blockchain: A Forward-Looking Trade Policy" in the European Parliament.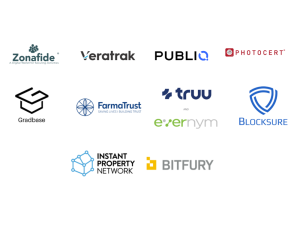 Four companies showcased their applications live at the event:
IOTA Foundation – Cross-Border Trading Processes
Oracle – Certified Origins Provenance
Lloyd's of London, on behalf of the London Market Target Operating Model (LMTOM) program – Insurance, Claims and transaction settlement
Everledger – Rewiring consumer confidence for businesses
In parallel to this event, an online showcase competition was launch. Ten companies were selected to showcase their applications through the APPG on Blockchain community (https://www.appg-blockchain.org/online-showcase/).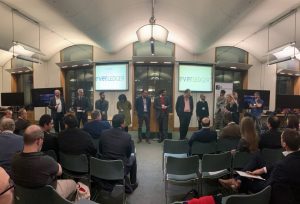 The night ended with Big Innovation Centre CEO, Professor Birgitte Andersen, hosting a quick-fire one-minute challenge from all our showcase companies suggesting how government and policymakers can support blockchain implementation.
Highlights
"The Blockchain APPG has done a fantastic job of raising awareness of this exciting new technology and the benefits it offers. As the minister responsible for digital, I am determined that government continues to play its role in driving forward its development. We want to ensure Britain remains one of the best places in the world to start and grow a digital business and to trial new technologies like blockchain."
Margot James, Minister of State for the Department for Digital, Culture, Media and Sport
IOTA Foundation – Cross-Border Trading Processes
IOTA Foundation showcases a solution to cope with today's complexity on the Global trade and supply chains. Information is pushed from actor to actor, re-keyed into new systems with loss of data integrity and authenticity.
IOTA showed a solution where a The Ledger provides Single-Version-of-Truth. Supply Chain is supported by a distributed ledger where original documents and events are reported in real time and made available to authorised actors. It provides transparency to the process and allows everyone to piggy-back on the original data. When all goods are registered and tracked, it can change border inspections and ultimately minimise the need for physical border inspections as we know them today.
Oracle – Certified Origins Provenance
This demo showcased a production use case of blockchain. Certified Origins have a duty to protect brand reputation on the Extra Virgin Olive Oil industry. Provenance tracking is the most visible use to customers, with blockchain the information provided by the many small farms that make up the end product is recorded in a way that it can't be tampered with once entered.
As each part of the supply chain provides its data, such as the ship it was put onto, the tasting sheet and journey history it provides a story for each bottle. We could see how the different actors operate within the network and how this builds up a picture of the product.
Lloyd's of London, on behalf of the London Market Target Operating Model – Insurance, Claims and transaction settlement
don Market Target Operating Model (LMTOM) is an initiative launched in 2015 by the leading associations that represent the businesses in the London insurance. Its mission was to make the London Market a more accessible place to do business.
Under this premise, Lloyd's of London showcased an application which provided a new more effective and significantly lower cost operating model using Blockchain technology. A DLT (Distributed Ledger Technology) prototype that processes original insurance contracts.
Everledger – Rewiring consumer confidence for businesses
Everledger showcases its application that drives transparency along global supply chains to allow stakeholders to make conscious decisions about whom they are working with and what they purchase.
Using Blockchain technology, it is able to authenticate provenance tracking on the Supply Chains. From diamonds to coloured gemstones and wine. Rife in various challenges including fraud, risk and unethical sourcing. All these are key to advance industries for a positive economic, social and environmental impact
Media Reach
British Media,
Coindesk, https://www.coindesk.com/uk-parliament-presented-showcase-of-real-world-blockchain-applications
Chinese Media,
Cnyes, https://news.cnyes.com/news/id/4291505
Russian Media,
BitNovosti, https://bitnovosti.com/2019/03/20/parlamentu-britanii-predstavili-vozmozhnosti-primeneniya-blokchejna-v-realnoj-zhizni/
German Media,
Crypto Monday, https://cryptomonday.de/iota-news-iota-praesentiert-dem-britischen-parlament-echte-use-cases
Read the full press release here.