The first flush of the digital economy boom is over. The online economy has reached maturity and the online world is as natural a habitat for business, commerce, education, entrepreneurship and social networks as bricks and mortar were for 20th century societies. Business models and regulation have adjusted in line with the opportunities of a progressive communication infrastructure and the digital divide – which for decades had separated the online haves and have-nots by their ability to adopt, use and exploit high-quality digital service – has closed completely.
Inequality has been starkly reduced in other areas too: exponential leaps in technology innovation in areas such as the low-carbon economy, renewable energy, life sciences and health economics have massively boosted sustainable growth and jobs, catalysing greater social mobility and revolutionising the quality of life for all groups within society.
Close collaborative innovation networks comprising global corporations, small and medium-sized enterprises, banks, research organisations, education institutions and the now highly enterprising state have become embedded as the natural approach to doing good business. In Britain, myriad such networks are striving together to maintain the UK's unparalleled position as a global hub for innovation. Despite their achievements, these networks do not rest on their laurels, but look to leap again into new waves of technology and innovation for the good of society.
This is not a dream, but the Big Innovation Centre vision of Britain in 2025.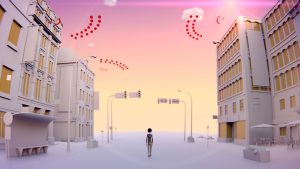 Featured Photo:
Professor Birgitte Andersen, Director of Big Innovation Centre, Spring 2011. Standing at 21 Palmer Street, London SW1H 0AD, where Big Innovation Centre was located until its demerger of the Work Foundation in August 2014.
Notes:
Professor Birgitte Andersen blog for Big Innovation Centre's launch on 8th of September 2011, was written to illustrate Big Innovation Centre's positive vision of the future delivered through the realization of the digital economy, restless capitalism that keeps on progressing, the necessity of open innovation models across business and society and an enterprising state as co-player.
It formed as key input to the animated production of Big Innovation Centre when their vision was showcased for many nations the G8 Meeting (LINK) in London on the 14 June 2013. Video Below.