Our CEO, Professor Birgitte Andersen will be speaking at the REFORM fringe event ""Words for life: how better literacy improves lives"  at the Conservative Party conference 2015 – Monday 5 of October at 12:00pm at the Venue: Beecham Room, The Radisson Blu Edwardian, Peter Street, Manchester, M2 5GP.
The below piece is Professor Birgitte Andersen's statement for the Reform fringe event.
Democratizing Intelligence
"140 characters in self-invented acronym-language are enough to get your message across to the relevant #conversation communities and everyone knows @who is talking.
If you aim to write a proper sentence in a blog, spellcheck corrects your language, but your personal expression is your identity. If you receive, or want to send, something in a foreign language you just turn Google translate on. The days Latin and fine-writing separated the achievers from the rest is history. Nothing can stop you from tweeting at, or about, your local MP or celebrity, and they might even reply. Information has become current text-conversation. Newspaper reading is in decline, but people are more informed. Voter turn-out has increased each time for the last 4 elections since 2001, up 10%. Mobile texting has significantly reduced illiteracy in the least developing countries and revolutions are led through Facebook.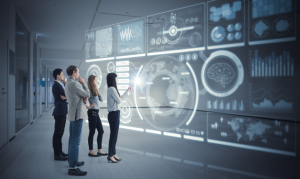 It's a new brave world! However, it comes with challenges or opportunities for business and society:
Somebody needs to write the new software codes and develop sense-making via data analytics. So far we have looked to America and Silicon Valley to lead the way. The UK has a shortage of Science,Technology, Engineering and Mathematics talent, and too much of the curriculum is backward looking.
Computer scientists are not developing their knowledge into global business models. If a successful entrepreneur in the new space wants to match opportunity with action, our financial system (preoccupied with less risky buy-to-let property markets) is not capable of finding solutions to back high-tech SMEs rich in intellectual property (IP) with growth finance. This gap hinders virtuous cycles of achieving national excellence in literacy and programming skills.
Businesses are also looking for softer skills in co-creators and open innovators. They are investing a historical high in processes and people – in the UK double what they invest in physical machinery, buildings and raw materials. But they start from a very low base. Whereas the new forms of text speak and big data enable user-driven innovations through consumers, we are falling short in creating the high level interdisciplinary and cross-occupational skills which are so important in the new smarter economy.  And if we think this is a challenge for big companies, it is even greater for SMEs, where resource constraints and traditions lead to narrow focus and low tech. On top of all this, university academics cannot communicate their research findings with people who are not super-skilled in their field. Businesses report them as poor co-creators.
Knowledge has become a key commodity, but there is no marketplace where we can trade ideas, designs, and creative expressions (as we can for capital, labour, property, and land). Here we rely on lawyers to write the overly complex and very expensive contracts in an incomprehensible legal language.
Do our MPs understand the opportunities and challenges?" 
NOTE: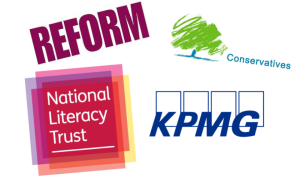 Held in partnership with KPMG and the National Literacy Trust, this event will consider the benefits of literacy to school pupils' engagement, future prospects in employment, and the skills of the workforce. With the introduction of the new National Curriculum and increasingly high expectations for school pupils, the discussion will focus on how to increase engagement and enjoyment of reading and writing.
Chair: Andrew Haldenby, Director, Reform
Rt Hon Nicky Morgan MP, Secretary of State for Education
Prof. Birgitte Andersen, Chief Executive Officer and CoCreator, Big Innovation Centre
Simon Gilbert-Barnham, Principal, Ormiston Venture Academy
Jonathan Douglas, Director, National Literacy Trust
Marianne Fallon, Partner and Head of People, KPMG LLP (UK)