Big Innovation Centre website at launch, with Secretary of State Vince Cable launching the centre on 8th of September 2011.
The website also showed the link to The Work Foundation from which Big Innovation Centre de-merged on 4th of August 2014
(pictured left, a still from the website)
A blog prepared for Big Innovation Centre's launch by its Director, Professor Birgitte Andersen, and the Chair of Big Innovation Centre's Steering Group, Will Hutton: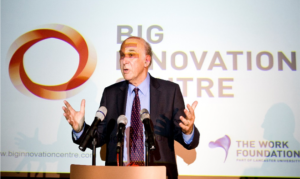 The UK economy is seriously underperforming with two dangerous twin deficits – one the gap between public spending and revenue, the other between our visible exports and imports. This is reflected in youth unemployment, low innovative activity, a still under-skilled labour force and the prospects for years of low growth. We must pull together. Co-ordinated action is required across business, finance, research, education and an enterprising state. The government must act now to adopt a strategy based on entrepreneurial investment in areas likely to bring the greatest dividends in growth, jobs and welfare. Otherwise we will face a decade of stagnation. The Big Innovation Centre, which launches today, aims to be the key catalyst in turning this around.
It is therefore a great honour to welcome the Rt Hon Dr Vincent Cable MP to the Big Innovation Centre today. Our evidence-based research agenda is exploring how the UK can best face the challenges as well as exploit the enormous business and technology opportunities that now present themselves.
The pace of scientific and technological advance is accelerating; and the new sources of economic growth and jobs in the future must come from boosting the economy's ability to take full advantage of the current and future general purpose technologies (GPTs). Underpinning current and future innovation waves, these include the digital and low-carbon economy, life sciences and health economics. There will also be other GPTs impossible to predict, which will surprise us. Just as everything changed after steam power, the railways, electricity and the internet, GPTs create and destroy industries and business models, remake markets and our lives, create productivity jumps and overturn the established corporate order.
However, innovation does not take place in an institutional vacuum. The ecosystem of national institutions contributes profoundly to competitive success. They include our research and education system; bridging institutions (such as science parks and technological innovation centres); formal and informal rules (such as law, regulation, entrepreneurial spirit and social capital); physical infrastructure (such as the railway, roads, airports and the world wide web); as well as government institutions and the sheer weight of history. It is these institutions that shape how companies, knowledge institutions, consumers, banks, skilled and talented people and others interact and perform.
In response, policy makers should aim to build an enterprising state that makes the UK's innovation ecosystem so attractive that the UK becomes a key global innovation hub – a place where talent is fostered and investment is located, spurring economic growth, prosperity and job creation. Directors of leading companies look closely at the innovation and investment ecosystems of different countries when they make decisions about where to invest and create jobs.
 Big Innovation Centre as catalyst:
Eleven global companies across a range of industries (from banks, business services to manufacturing, energy, pharma and engineering) have joined up with trusts, individuals, public bodies and the UK's top research universities to come together through the Big Innovation Centre to devise answers that meet the challenges and use the opportunities.
These partners of the Big Innovation Centre are investing their money, highly skilled staff, data and ideas. Together we will design research, discuss in business forums, open our doors to share data, ideas and talent, and learn from practice and trial testing. And we may even experiment by setting up pilot companies.
Building an enterprising state requires evidence-based research in the areas of building:
markets, place and networks
an innovation-friendly financial system
universities as interactive partners
skills for action
and public action to drive innovation.
In our joint action, the Big Innovation Centre is business-backed, but independent in view. We are independent from government, although very committed to helping to build the enterprising state.
With our evidence base we will propose practical reforms with the ambition of making the UK a global open innovation hub as part of the urgent task of re-balancing and growing the UK economy. Our vision is to build a world-class open innovation and investment ecosystem by 2025 and to change the face of Britain. Nothing more; nothing less.