'Blockchain is a change-maker technology for the logistics sector. Having a fully transparent, immutable version of logistic events will de-cost and de-risk operations and improve efficiency significantly. Perhaps most importantly, it will increase contractual trust between stakeholders.' 
A powerful and positive message from the All-Party Parliamentary Group on Blockchain meeting, which met (24th of  March 2020) to review the impact of blockchain technology on the Logistics industry.
Big Innovation Centre is the, appointed by UK Parliament, Secretariat for APPG Blockchain. The team also functions as the research hub and coordinator for the group. 
The APPG Blockchain meeting brought together a group of experts in logistics,  construction, finance and technology
To view photos from the meeting, scroll using the right and left arrows when you hover over the picture. 
A consolidation of experts, joined by:
Steward Jeacocke (Network Development & Customs Lead, TradeLens/IBM), Dr Jacob Bejoy (Head of Centre of Excellence Blockchain & AI, Deutsche Post | DHL), Professor Lenny Koh (Director, Advanced Resource Efficiency Centre (AREC), Uni of Sheffield), Kevin O'Grady (Associate Director, ARUP, Construction Smart Contracts Committee), Ahmed Zghari (Chair, Construction Smart Contracts Committee, HC BIM), Diarmuid O'Riordan (Director, PING Asset Limited), Geoffrey Goodell (Senior Research Associate, UCL Centre for Blockchain Technologies).
The meeting was chaired by Martin Docherty-Hughes MP. CEO of Big Innovation Centre Professor Birgitte Andersen represented the Secretariat. Fernando Santiago, also from Big Innovation Centre, was rapporteur for the event.
"Blockchain will not only improve existing logistics operations," said Professor Birgitte Andersen, CEO of London-based innovation think-tank Big Innovation Centre. "It will usher in a whole new wave of innovative business models and opportunities that will contribute to rapid sector growth. Before this can happen, however, collaboration models among stakeholders, data governance and regulation need to be thoroughly defined."
The evidence from the meeting reveal 5 changes from Blockchain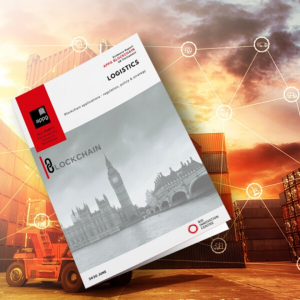 Download the report: Click here
1. Blockchain will be the Change-Maker Technology
For the shipping industry, freight and last-mile delivery or construction sectors, blockchain will be the 'change-maker' technology. The potential to "Track & Trace" all the events in the logistics movement will bring transparency & accountability to the sector, and ultimately it will increase the contractual trust among all stakeholders.
2. New Business Models in the Logistics Sector
The immutability of shared records in the blockchain network will give rise to new business models and new opportunities. When used in combination with AI and IoT, it can contribute to the idea of a 'technological singularity'. Use cases should be explored and developed where decentralised data and results are needed.
3. Better Value for Money in the Construction Industry
Data transparency and removal of sector opacity will increase efficiency and encourage prompt payments. This will be particularly important for the construction industry.
4. Underpin Ecosystem Platforms for Collaboration
Blockchain means sharing information, and this requires trust amongst participants. In order to increase the trust, we need a system for increased information which is shared. Collaboration, data ownership and governance models of the network need to be thoroughly considered and agreed before any implementation of blockchain.
5. A Regulatory Push and Robust Standards for the Logistics Sector
Regulators and policymakers should explore the uses of blockchain in the logistics industry. They should engage with the current initiatives and "help to shape", in real-time, the evolution of the sector.
Towards Technology Singularity for Logistics
Towards Technology Singularity for Logistics
The evidence revealed at the meeting suggests that blockchain will have an extraordinary impact on the logistics sector over time, in particular when it is combined with other emerging technologies such as artificial intelligence and the Internet of Things.
APPG Blockchain Sponsors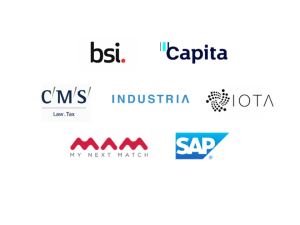 This showcase is an output of the All-Party Parliamentary Group on Blockchain (APPG Blockchain)
British Standards Institution (BSI), Capita, CMS Cameron McKenna Nabarro Olswang, INDUSTRIA, IOTA Foundation, MyNextMatch, and SAP – enable us to raise the ambition of what we can achieve.
Big Innovation Centre is the appointed Secretariat for APPG Blockchain.